I've been told perfection is boring. Well, I'm certainly not boring (just ask my friends) and I'm definitely not perfect (just ask my kids)! Because of this I have a standing policy of rewarding people who nicely bring an error to my attention with a free single pattern download from my Ravelry pattern store.
Go to mobile site

Skill level: Intermediate
Suggested Needle(s): US #6 (4.0) mm
Sizes Offered: XS to 5X
Yarn Weight: worsted
Yardage Required: 1125-2000 yards
Techniques Used: provisional cast on, directional increases and decreases; short rows; working in the round; button holes, and Jeny's Surprisngly Stretchy Bind Off.
Promotions: save $3.00 when purchasing all 3 totally biased patterns.
$5.99 $2.99
Totally Biased: The Cardi is the first in a trio of related designs created to flatter a woman's curves. The bias of the fabric creates deep V-s in front and back. These V-s – along with dramatic waist shaping–highlight an hourglass figure (or create the effect of an hourglass if it's not naturally occurring)!
The Cardi has front sections that overlap generously and a flirty shawl collar. It is utterly stunning in Knit Picks Chroma Worsted!
Each garment in the Totally Biased collection comes in a wide range of sizes (XS to 5X) and can be worked to any length. They are worked entirely in garter stitch–which (in my humble opinion) is the very best stitch to use when color comes out to play. Whether your yarn has long, gently changing swaths of color, is hand-painted, dappled, or if you're simply creating stripes from your stash of remnants–garter stitch will make the colors pop!
See Also: Totally Biased: The Hoodie and Totally Biased: The Summer Top.
Measurements
Note: waist and bust measurement exclude the overlap at the front.1
Bust: 31(33.5, 38.5, 42.5, 45, 47.5, 54, 58, 60) inches
Waist: 25(27.5, 32.6, 36.5, 39, 41.5, 48, 52, 54) inches
Length: can be worked to any length. Hip measurement increases as length increases. Yarn requirements given for approximately hip length.
Approximate yardage: 1125(1200, 1375, 1475, 1550, 1625, 1775, 1900, 2000) yards.
Note: Yarn quantities are for a hip length garment. If a longer garment is desired, purchase more yarn.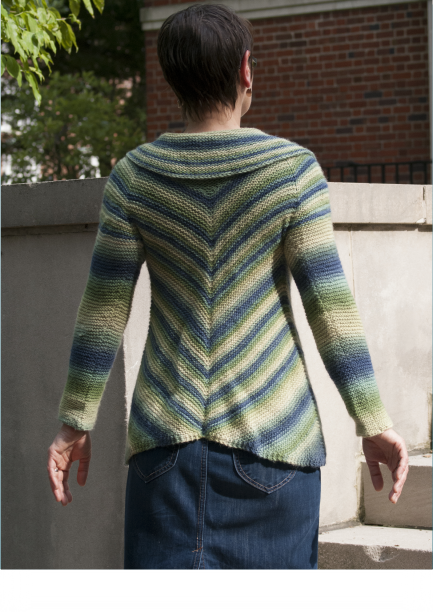 Buy it now