I've been told perfection is boring. Well, I'm certainly not boring (just ask my friends) and I'm definitely not perfect (just ask my kids)! Because of this I have a standing policy of rewarding people who nicely bring an error to my attention with a free single pattern download from my Ravelry pattern store.
Go to mobile site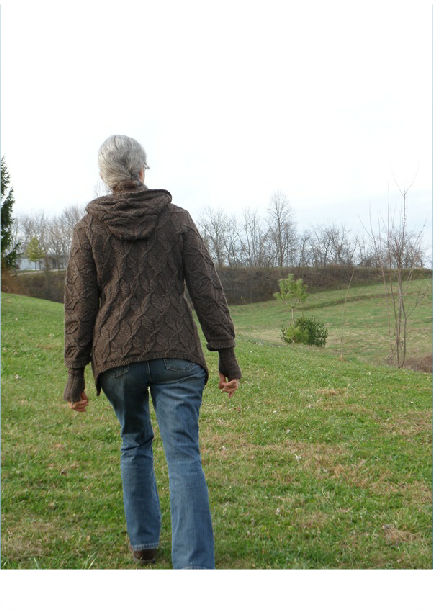 Skill level: Experienced
Suggested Needle(s): US #6 (4.0 mm)
US #8 (5.0 mm)
Sizes Offered: XS to 5X
Yarn Weight: Worsted
Yardage Required: 1500 to 2775 yards
Promotions: An expanded version of this pattern is also available in the Rime's the Reason Ebook.
Farewell, heat, and welcome frost! --The Merchant of Venice
I really hate being cold. I dread the coldest days of winter when my teeth chatter like castanets indoors, even when the furnace is blasting its pitiful best. This year, though, I'm going to be toasty warm wearing this incredible jacket.
Made in worsted-weight wool, the base jacket is worked in one piece in a way that allows the unique cabling to proceed without interruption around the arms. The jacket avoids being too boxy by using tapered Wood Grain panels to join the front and back. These panels appeal to the sewing phobic since they allow most of the assembly of the basic jacket to be done on knitting needles and not with the sewing needle.
While the body of the jacket is both eye-catching and unusually constructed, its true distinguishing feature is that every opening is weather proofed. There is a close fitting, lined hood. The gapless front opening is achieved with a zipper which is then camouflaged by a wide button placket. The cuffs extend to become fingerless mitts or can be worn retracted providing a barrier to cold air that might otherwise sneak up the arm. Finally, a narrow band of ribbing sewn into the interior of the jacket around the waist provides a simple yet effective draft excluder while providing a bit of gentle shaping to the waist.
Other unique features of the design include a grommet style button hole developed for this design and a grafting cheat sheet which makes the grafting of the cabled fabric of the hood a bit of a challenge.
All these features combine to create the perfect jacket for indoor use in the winter or outdoor use on a crisp fall day. So, why would this jacket be a good addition to a cold-weather wardrobe? Rime's the Reason.
Rime (noun): frost formed on cold objects by the rapid freezing of water vapor.

Go to Knitty!