I've been told perfection is boring. Well, I'm certainly not boring (just ask my friends) and I'm definitely not perfect (just ask my kids)! Because of this I have a standing policy of rewarding people who nicely bring an error to my attention with a free single pattern download from my Ravelry pattern store.
Go to mobile site

Skill level: Intermediate
Sizes Offered: any
Yarn Weight: any
Techniques Used: knitting in the round, directional increases and decreases,twisted stitches, picking upstitches, short rows, button holes, Jeny's Surprisingly Stretchy Bind off.
Promotions: Save $3.00 on the purchase of both Serenedipity patterns (they don't have to be purchased simultaneously).
Some designs come more easily than others. This cardi and its pullover cousin, were pure Serendipity. I was inspired by the observation that an octagon would make a great sweater back. The sides, raglan sleeves, neck, and a guide for waist shaping are all right there. The garments practically designed themselves!
I chose a ribbed fabric for Serendipity and then allowed the lines of that ribbing to flow from the octagons to the waist and sleeves to make gorgeous, flattering shaping reminiscent of the sweater girls of Hollywood from the 1950's. The cardi pictured here has bell sleeves, a feminine (but optional) touch.
Serendipity is written as a recipe which allows the knitter to customize their garment to fit any bust size and to use a wide range of yarn weights (with the caveat that bulky yarn allows for fewer bust size options). There are worksheets throughout to gently guide you through all calculations. And, for those who prefer to keep their patterns on their electronic devises, the PDF files have form fields which will allow you to save your personal data to your devise.
Finally, a four week, video supported Serendipity Knit Along begins May 4, 2015.
EXTREMELY GENERAL YARDAGE ESTIMATES
Bust: 36(44, 52, 60) inches
Fingering: 1500 (1775, 2100, 2450) yards
Sport: 1350 (1675,1900, 2300) yards
Dk: 1200 (1525, 1750, 2075) yards
Worsted: 1200(1375, 1625, 1900) yards
Bulky: na (1500, 1750,1900) yards
I am collecting yardage data for this pattern so I can provide more accurate estimates for my customers.
If you have data to submit, use this form.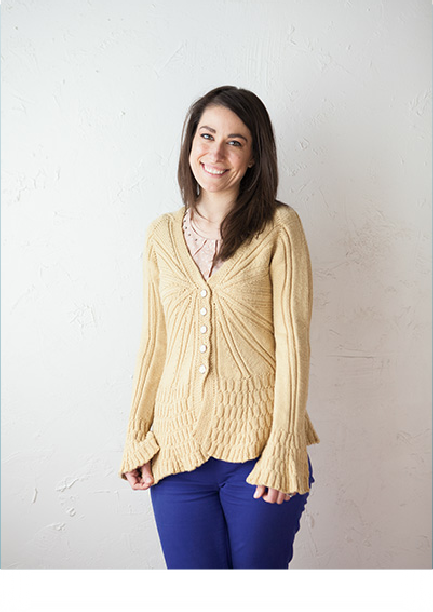 Buy it now