I've been told perfection is boring. Well, I'm certainly not boring (just ask my friends) and I'm definitely not perfect (just ask my kids)! Because of this I have a standing policy of rewarding people who nicely bring an error to my attention with a free single pattern download from my Ravelry pattern store.
Go to mobile site

Skill level: Easy
Suggested Needle(s): US # 10 ½ (6.5 mm)
Sizes Offered: one size given, sizes vary with yarn weight. See Kink's Big Sister for a shawl variant.
Yarn Weight: sport(ish) Very forgiving of yarn weight variance.
Yardage Required:
Techniques Used: yarn over, slipped stitches,
$5.99 $2.99
Once upon a time an Experienced Knitter was handed a drop spindle and a wad of roving by her Fairy Godmother. Spin, she was advised, and so she spun. As she spun she realized the yarn she was creating was flawed, but she did not stop. The fiber had cast a spell upon her and she loved the wooly yarn pet she was creating with each turn of the spindle.
One day, the Knitter came to the end of her roving and carefully unwound her spindle. The skein she'd patiently created was—Kinky. It was thick and thin. It was like no other yarn in her stash. Crushed, our knitter prepared herself to banish her skein to the bin. Her Fairy Godmother stayed her hand with a gentle smile and said "You have potential, my dear. Your yarn, for a first time spinner, is lovely."And thus the kinked skein was saved from certain doom.
Still filled with shame for her yarn, our Knitter strongly considered hiding her creation in a box, far away from the eyes of her sister and brother knitters. Under normal circumstances, she would never consider using such flawed yarn. Her knitting had received many favorites throughout the Kingdom of Ravelry. What might "they" think of a project created from this homely yarn?
One night, in a fit of both stubbornness and enlightenment, she opted to knit with her handspun; to acknowledge, nay, embrace its imperfections. And so, the "Kink" collar was born. Kink is lacey, pretty, easy to make and very forgiving of less than perfect yarn. If you happen to have more expertly spun or commercial yarn then your Kink will really shine. Our Knitter shares it here to provide an opportunity for escape for all the enchanted, imperfect, yarn pets that are trapped in stashes around the world so that they too may live happily ever after.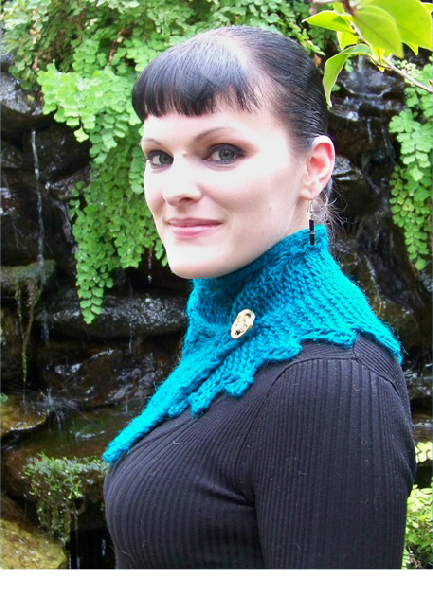 Go to Knitty!